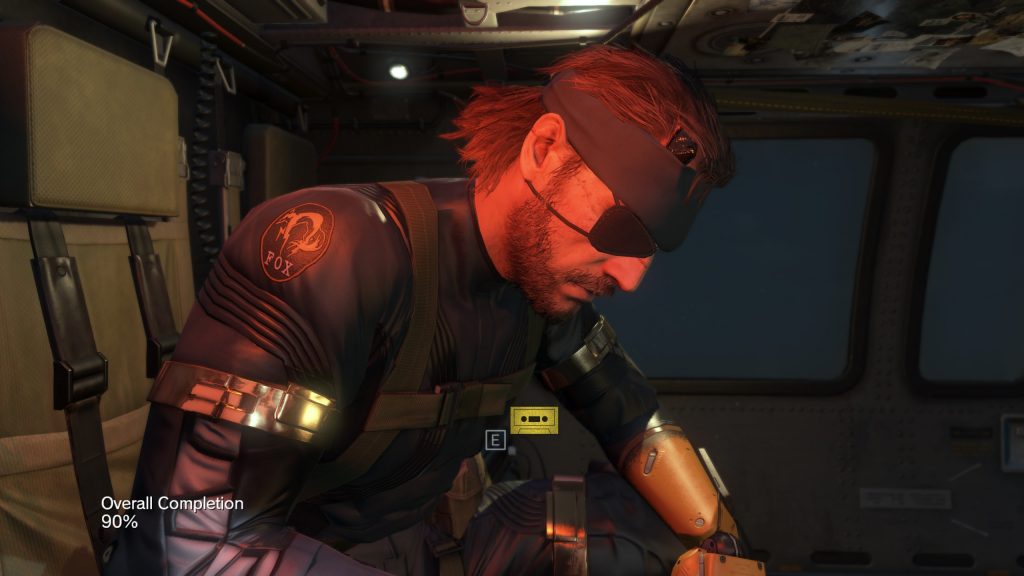 I'm getting close to 100% completion of Metal Gear Solid V: The Phantom Pain. I've completed the story (more on that in a follow up retrospective when I'm done) and achieved S-rank in all of the missions, which is easier than it seems at first glance. So I'm chasing the other things that need done:
achieve S-rank on every main mission

wait, I said this already, weren't you paying attention?

complete 157 side ops

most of the time spent on this is taken on getting to the side-ops location; highly repetitive

capture / save a specimen of every animal

Can you say 'fetch quest'? I thought you could!

complete all important combat deployments

click a button on the menu and wait? sure

collect all blueprints

should be achieved if doing all the other stuff anyway

collect all key items

similarly, most should be gained in the course of things, except the first aid kit (off the top of my head)

collect all 10 Paz photographs

all but one gained via side ops

complete all mission tasks

last but not least! practically speaking, this means missions need 'around 3' plays: first time its new, second time for s-rank, and third for the remaining objectives. Some missions have mutually-exclusive objectives – I'm looking at you, Backup, Back Down – so may require more
The final one is probably the biggest time sink; though the side ops come close. a rough guess, I reckon I've done all the mission objectives in at least 25% to 40% of missions, maybe more. Some of the objectives take a while, particularly the ones which involve following a target and listening to their conversations.
The Good
Playing without care for rank or speed generally means more fun! The optional objectives reward things that are a little more out of the way to do (like capturing patrolling armoured vehicles, or recovering a blueprint) but are in themselves rewarding.
But the most time-consuming ones, 'listen to a series of conversations' I've found the most interesting as they reveal more about the plot, so are cool in retrospect. Having completed the story, its a bit like rereading a book and going "oh, so that's what they were foreshadowing!".
The Bad
It's a grind. Redoing things you've already done, watching the Boss (in the guise of whichever character) fly into the AO over and over again gets repetitive quickly. I've seen Hideo Kojima's name in the credits more times than I count, though that's in every mission a few times so is pretty repetitive in itself.
There's also the nagging feeling that chasing a meaningless number in a game is a huge waste of life, but I try to push that to the back of my mind. I'm having fun!
The Ugly
There are occasional bugs; one mission (Lingua Franca) is prone it it. I've also had people/outposts/bases get spooked and never leave the heightened security state, necessitating a restart.
Am I still enjoying playing the game, even though I've completed the story? Yes, but only just.